Man charged with GBH after west Belfast stabbing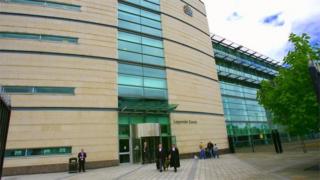 A 19-year-old man has been charged with grievous bodily harm after a stabbing in west Belfast left a 51-year-old man critically ill in hospital.
The attack happened in Vere Foster Walk in the early hours of Saturday.
The man is due before Belfast Magistrates Court on Tuesday.
Another 19-year-old, Aidan Muir, from Springhill Grove in the city, appeared in court on Monday and was released on bail.
Muir was allegedly armed with a pair of scissors and a hammer during the attack.
He faces charges of possessing an offensive weapon, burglary and causing grievous bodily harm.
A 26-year-old man, also arrested in connection with the stabbing, has been bailed pending further inquiries.