Paul Quinn: Police find vehicle parts during illegal waste search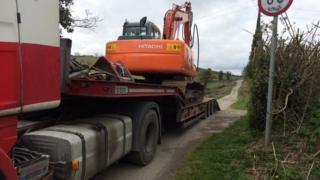 Irish police investigating the murder of County Armagh man, Paul Quinn, have said vehicle parts were among the items found in a quantity of illegal waste in County Monaghan.
The 21-year-old, who was beaten to death, was found in a barn in Oram, County Monaghan, in October 2007.
Searches of a farm near Castleblayney, on the border between Armagh and Monaghan, began on Thursday morning.
A man in his 50s, who was arrested, was released without charge on Friday.
The BBC understands that specialist ground radar equipment was used to search the area and showed up a large amount of buried items.
A digger was brought in to excavate the items, which were found to be illegal waste, including large household objects.