Cocaine: Man jailed for having cocaine in shopping bag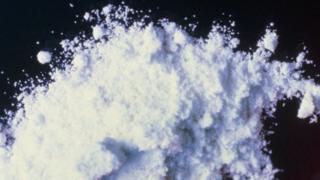 A Belfast grandfather who was caught with almost three kilos of cocaine in his car has been been given a two-year sentence.
Belfast Crown Court heard that Hugh Brady, 50, of Molyneaux Street was stopped by police after failing to locate a drop-off point for the drugs.
They found a shopping bag containing white powder in the passenger area.
The judge told Brady he would serve half this sentence in prison, with the remaining year spent on licence.
His car was stopped on the Sydenham Bypass on the evening of 27 May 2015 following information received by police.
When Brady was asked what the white powder was, he told police he did not know, and when arrested for possessing the drugs replied: "I was forced."
Guilty plea
A total of 12 bags of the Class A drug were found within the shopping bag, amounting to almost kilos with a street value of about £180,000, the court was told.
During the police interview, Brady said he was approached by a man he refused to name, who told him to collect the shopping bag from the Falls Road in Belfast and take it to a car showroom in Bangor where someone would meet him.
He said that when he got to Bangor, he could not find the showroom, started to panic and was driving back to Belfast when he was stopped by police.
Brady subsequently pleaded guilty to a charge of possessing cocaine with intent to supply.
A defence lawyer said Brady had been approached by someone he knew to be in a paramilitary organisation, and that the offending was "entirely out of character."