Michael McGibbon murder: Arlene Foster calls on public to assist police investigation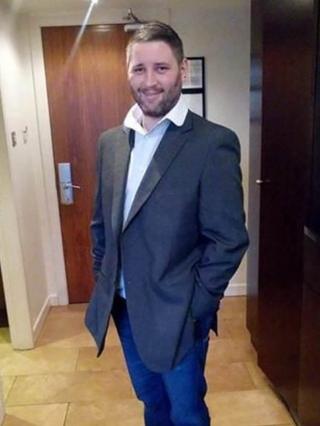 First Minister Arlene Foster has called on people in north Belfast to cooperate with police to help them bring justice for the family of Michael McGibbon.
The 33-year-old taxi driver died after being shot in the legs in an alleyway in Butler Place on Friday night.
The police said the attack carried the hallmarks of a paramilitary murder.
A 34-year-old man was arrested by police on Sunday but was released unconditionally on Monday.
It is understood he was prominent north Belfast dissident republican Dee Fennell.
Mrs Foster said she condemned the murder outright and offered her deepest sympathy to the McGibbon family.
Questioned about whether the police had questions to answer, the first minister said she understood the Police Ombudsman was looking into the case and she did not want to comment on that.
Sinn Féin MLA Gerry Kelly said he "unreservedly" condemned Mr McGibbon's murder.
"This killing has shocked the local community in north Belfast," he said.
SDLP North Belfast councillor Nichola Mallon said the community had been left "shocked and horrified by this brutal murder".
Condemnation
"My thoughts and prayers are with the victim's family whose lives have been plunged into darkness by this unspeakable crime," she said.
Alliance councillor Nuala McAllister condemned those behind the attack.
"There can never be any excuse for carrying out such a heinous act and I utterly condemn the thugs behind it," she said.
Ulster Unionist Leader Mike Nesbitt said: "Once again a family has been plunged into mourning following a despicable murder.
"There are people out there who know who murdered Michael McGibbon and society demands that they speak out.
"There are no excuses for holding back - otherwise the murderers will be free to inflict more pain in the future."
Mr McGibbon was married with a young family.
A priest, Father Gary Donegan, told the BBC's Sunday News programme how Mr McGibbon's wife tried to save his life when she arrived at the scene.
Mrs McGibbon, who is a nurse, came to his aid shortly after the shooting.
Police have said Mr McGibbon had contacted them to inform them that two masked men had arrived at his house on Thursday evening.
The men ordered him to come out of the house but he refused, and they told him they would return.
Mr McGibbon's murder had been referred to the Police Ombudsman for Northern Ireland.