Use of food banks in Northern Ireland hits all-time high, according to research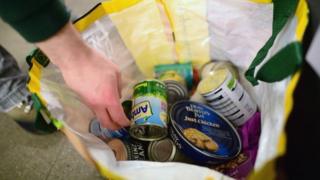 The demand for food banks in Northern Ireland has hit an all-time high, according to research carried out by a charity which supplies them.
The Trussell Trust, which conducted the study, runs a UK-wide network of food banks, 37 of which are in Northern Ireland.
In the past year, the number of emergency food parcels they have provided has increased by 48%.
In total, 25,755 packages were supplied in the 2015/2016 financial year.
Of this number, 11,155 went to children.
According to the statistics, the use of the resource is rising faster in Northern Ireland than in many other areas of the UK.
Low income
The charity says low income remains the single biggest reason that people to turn to food banks, followed by benefit delays and unemployment.
David McAuley, CEO of The Trussell Trust, said the ever increasing levels of demand "must not become the new normal".
"Reducing UK hunger will require a collective effort from the voluntary sector, government, businesses and the public," said Mr McAuley.
"The Trussell Trust is keen to work with all these parties to find solutions that stop so many people needing food banks in future."
Ireland Secretary of Unite, Jimmy Kelly, said the figures reflect "the failure of the Northern Ireland Executive to act to raise incomes for the working poor".
"The revelation that 11,125 of those packages went to children exposes the extent to which we are failing to protect the most vulnerable in our society," he said.