Newtownards air crash: Pilot Stephen McKnight had a heart problem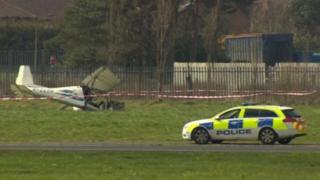 A pilot who died in a crash at Newtownards airfield, County Down, last year, may have been incapacitated by a heart problem, air accident investigators have found.
Stephen McKnight, 55, from Hillsborough was practising circuits in a light aircraft when the accident happened on 7 April 2015.
He was taken to the Ulster Hospital in Dundonald where he later died.
A report was carried out by by the Air Accidents Investigation Branch (AAIB).
It said that after reaching 80ft to 100ft the nose of the two-seater microlight dropped and the plane struck grass to the left of the runway.
A state pathologist for Northern Ireland found that Mr McKnight died as a result of chest injuries.
Symptoms
A Royal Air Force aviation pathologist's review of the findings concluded that he had a "considerably enlarged heart" for a man of his height and weight.
The report said symptoms related to Mr McKnight's heart "could potentially have produced a degree of distraction or incapacitation which could have led to the final manoeuvre".
It concluded that there was "no definite pathological evidence" to prove this happened, but said that it could not be ruled out.
A GP had signed a five-year medical declaration in October 2013 stating that Mr McKnight was fit to fly.
No evidence of alcohol or drugs was found in toxicology tests.
The aircraft's engine showed no signs of a pre-existing defect. It sustained significant damage in the accident.
The report said that in "the absence of any conclusive evidence, the investigation considered that the accident occurred due to the pilot not intervening sufficiently to correct the increasing roll to the left after the last touch-and-go landing".
"There was evidence to indicate that this could have been due to incapacitation," it added.