Warning over snack complaint 'unwarranted', man accused of endangering aircraft says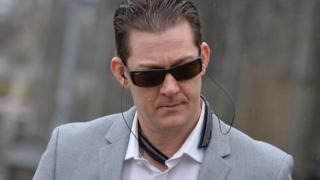 An American man accused of endangering an aircraft after he asked for pre-flight snacks has told a County Antrim court his treatment was unwarranted.
The United Airlines transatlantic service diverted to Belfast after flight attendants became worried by the behaviour of Jeremiah Mathis Thede, 42.
He asked for crackers before the plane took off and alarmed passengers with his erratic actions, crew claimed.
But, he said it was fair to complain after he was refused the snacks.
Mr Thede was on an 11-hour United Airlines flight from Italy to the US on 20 June last year.
Unhappy
The Californian claimed he had never before been denied the free snacks in years of frequent flying.
He said he was down to his last dollars and had eaten only an apple during a delay of several hours at Rome airport at the end of a lengthy trip through Europe.
He told Antrim Crown Court: "If you are unhappy with service in the service industry it seems to me a reasonable recourse is to file a complaint.
"Especially after a prolonged delay at the airport, they should have provision for people in my position.
"I was clearly hungry. I was not taking issue with her personally but I definitely wanted to make my grievance known to the airline."
Warned
Mr Thede, from the Alameda in Berkeley, had travelled from London to Rome to meet family and was going home.
When he boarded the aircraft he wanted to sleep but was unable to do so because of hunger, he said.
"They usually have a complimentary snack," he told the court.
"I figured I would just try to get that peremptorily because I would want to be asleep by the time they got around to bringing it to me."
A senior cabin crew member had warned Mr Thede about his actions before the captain decided to abort the flight.
Wait
Mr Thede said he felt the warning "was unnecessary and unwarranted".
"I was kind of wondering why she was not asking me about the complaint that I had," he added.
The plane had to dump thousands of litres of fuel before making the unscheduled stop at Belfast International Airport.
The 264 passengers had to wait almost 24 hours before the plane could take off again.
The trial continues.