World War One: Relative's appeal over medals stolen in Belfast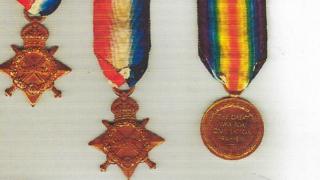 A relative of two World War One soldiers whose medals were stolen in a burglary in north Belfast has appealed to the thieves to return them.
The medals were taken from a house on Parkmount Road between Saturday night and Sunday morning.
They belonged to the grandfather and great-uncle of John Pelan, and were awarded for their efforts in the war in France 100 years ago.
He said the medals were "irreplaceable" and "a connection with the past".
Mr Pelan's grandfather, Pte McIntyre Shields Pelan, was at the Battle of the Somme while his great-uncle died in France in September 1916.
"One of the medals that was stolen was the Military Medal, the equivalent of the Military Cross for the lower ranks, [my grandfather] won that," Mr Pelan said.
"His brother, William James, won the Distinguished Conduct Medal.
"They went out as young men and the only thing of my great uncle's we have left is his medal."
He said the medals had been "held on to and cherished" as they were passed through his family.
Aside from the medals, burglars took 30 silver dollars stamped with the American Eagle and United States of America.
"If anybody comes across them or sees them, if they could hand them in it would be appreciated," he added.
"I'm not sure if there's any monetary value in them but they're of great sentimental and emotional value to our family."