Newtownabbey woman is jailed for 'dating site' arson attack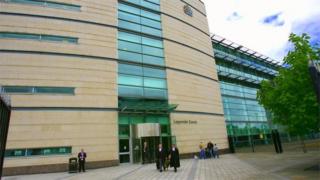 A Newtownabbey woman has been jailed for an arson attack on the home of a man she met on a dating website.
Alison Greer, 42, of Hillside View, initially denied the charge of arson with intent to endanger life.
She was given a 30-month sentence at Belfast Crown Court, with 15 months of this to be served on licence.
Throughout the trial, Greer denied setting fire to the Housing Executive property at Knockane Way in the Rathcoole area.
Inflammable material was poured through the letterbox of the property and set alight, in the early hours of 10 July, 2014, resulting in about £2,000 worth of damage.
The male occupant, who was in the process of moving in to the house when it was targeted, was not in the property at the time of the attack.
The jury heard evidence from a neighbour who saw a woman getting out of a vehicle at about 03:30 BST.
Non-romantic relationship
The neighbour noticed that the woman was carrying a white plastic bag, and she heard her "rapping the door" before witnessing her "trying to put this bag through the letter box."
A short time after the woman departed in her car, the witness heard an alarm, saw flames coming from the front of the house and called the fire service.
The jury also heard that the male occupant of the house at Knockane Way had met Greer on a dating and social media website and that prior to the incident, they had a non-romantic relationship that lasted for a short time.
The friendship, the court heard, came to an end, but they met on the afternoon of 9 July - the day before the arson attack.
Despite her claims of innocence during the trial, Greer was found guilty by a jury of arson with intent to endanger life.
During sentencing, the judge said that since being found guilty of the offence, Greer admitted she had committed the offence - saying that she acted out of revenge for an alleged incident that occurred between their respective children when they met for lunch the day before.