Larne, County Antrim: House gutted in early morning blaze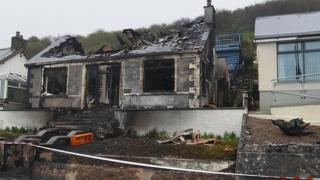 Extensive damage has been caused to a house near the A2 Coast Road in Larne, County Antrim, as the result of a fire.
A woman in the property was alerted to the blaze by a neighbour on Tuesday morning. Twenty-seven firefighters attended the incident.
The woman was able to get out of the house and was treated at the scene by medics.
The A2 Coast Road was closed at Branch Road near the Black Arch but has now reopened.
The Northern Ireland Fire and Rescue Service said that when it arrived at the scene at about 02:30 BST, two oil tanks were alight.
Five fire engines attended the blaze.
The fire service was able to stop the fire spreading to an adjoining house and another oil tank.