Francis Rowntree: Inquest hears of serious rioting on day 11-year-old was shot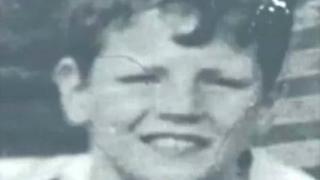 A soldier in command in the Divis area of west Belfast when a young boy was shot by a rubber bullet has told the inquest into his death that there was serious rioting on the day he died.
Francis Rowntree, 11, was shot by a soldier in west Belfast in 1972.
Trevor Veitch said the rioting was serious from midday.
He said there were crowds of youths aged between 10 and 18 involved in the rioting which he described as "well organised".
"At least one blast bomb was thrown," he said.
Mr Veitch, who was the commanding officer of the third Battalion Royal Anglian, told the inquest on Tuesday that 16 shots had been fired at his men that day and that the military vehicle he had been in was pelted by various missiles from a distance of 15 yards.
He said he heard two baton rounds fired from the back of the military vehicle.
"Soldier B (one of seven occupants in the vehicle) informed me that he had fired at the crowd and had hit someone," he said.
"We didn't want anyone to get close enough to fire anything under the vehicle."
Earlier, counsel for the Rowntree family produced original Ministry of Defence (MoD) documents from the date and time Francis Rowntree was shot.
Rather than be redacted, the notes had been cut up.
Fiona Doherty QC told the inquest she had "never seen anything like it".
She told the inquest that about six documents had been cut up - documenting right through the crucial time period when the incident involving Francis Rowntree took place.
The coroner said "we may not be in a position to fill in the blanks, but I would ask someone from the MoD to provide a statement concerning this".
It emerged during evidence that no warning was given to Frank Rowntree before he was hit by a rubber bullet.
Francis Rowntree, known as Frank by his family, died in the Royal Victoria Hospital two days after being hit - on 22 April, 1972.
The inquest had been told that Henry Donaghy who was 14 and with Frank at the time did not hear a warning.
Asked by Counsel for the Rowntree family why a warning was not given, Mr Veitch said a warning was "something we aspired to".
He said under the circumstances we had no-one to address - the situation was "fluid".
'Warning'
Mr Veitch said rioters were acting illegally, throwing stones, causing damage and injuring the military.
He said he had spoken to people individually - he had met 30 to 40 parents to tell them their children were risking their lives.
"That was my warning," he told the inquest.
They knew what the military reaction would be, he added.
Asked if he gave a warning, he said no.
He also accepted that not all the people in the vicinity of a riot were rioting.
The inquest was told that the company Mr Veitch commanded was a "tough and blood thirsty lot".
It had been noted in a document that the Divis population was "scared to death of us".
Mr Veitch said that was not the case.
He said they were, at one time, related to the parachute regiment but that they had no special reputation.
The inquest heard that the Army were to work on the principle of minimum force - that it was a "governing principle".
Mr Veitch said: "Yes it was based on the traditional way of crowd dispersal and not a way of dealing with the turmoil going on in the Divis area in 1972."
He said we did the "best we could do at the time but we were forever overtaken by events".
He said "no women or children were targeted but it must have happened because they were part of a crowd."