Jail for woman who stole £60 worth of meat from County Antrim shop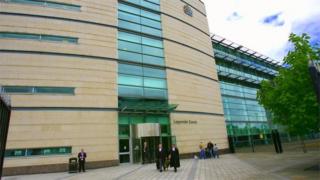 A woman who stole £60 worth of meat from a County Antrim grocery store has been jailed for a total of two months.
Laura Nicholl, 23, was ordered to serve a month behind bars for the theft from a Spar outlet in Carrickfergus.
A judge at Belfast Magistrates' Court also imposed a further month of a suspended sentence for an earlier theft.
Nicholl, of Rosebrook Grove in Carrickfergus, stole the meat from the shop on Middle Road on 15 March.
CCTV footage is believed to have identified her at the scene.
She pleaded guilty to the theft at her first court appearance on Monday.
Leniency
In a plea for leniency, a defence lawyer stressed the early admission.
But a district judge pointed to Nicholl's previous convictions and how other efforts to stop her offending had failed.
The sentence she passed included part of a suspended term imposed less than two months ago.