WW1 medals stolen in Belfast burglary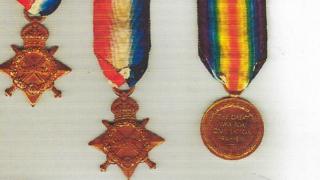 A number of "distinctive" World War One medals of "great sentimental value" have been stolen during a burglary in north Belfast.
They were taken from a house on Parkmount Road between 21:00 GMT on Saturday and 09.30 GMT on Sunday.
The stolen collection includes a 1914 and 1915 Star for service in France or Belgium.
A medal bearing an angel and the inscription "The Great War for Civilisation 1914-1919" was also taken.
They were awarded to Sapper Mcintyre Shield Pelan.
Another bore the head of King George and an inscription for bravery in the field.
It was said to be an equivalent to the Military Cross for soldiers below commissioned rank.
Aside from the medals, burglars took 30 silver dollars stamped with the American Eagle and United States of America.
PSNI Const Nick Williamson said the collection was "of great sentimental value to the owner".
He appealed to anyone who noticed any suspicious activity around Parkmount Road on Saturday night or the early hours of on Sunday morning to contact police.