M1: fatal crash closes motorway for several hours in both directions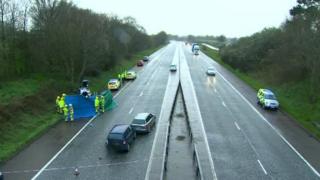 An elderly woman has died after a six-vehicle crash on the M1 between Moira, County Down, and Lurgan, County Armagh.
It happened close to Cornakinnegar Bridge, between junctions 9 and 10 westbound, at about 17:35 BST.
It was one of several crashes along the same section of road on Friday and resulted in very long tailbacks as the motorway was closed for several hours.
Police said the westbound carriageway is expected to "remain closed into the night" to facilitate the investigation.
'Massive disruption'
The dead woman was a rear seat passenger in one of the six vehicles involved in the crash,
A number of other people sustained minor injuries.
Insp Alan Stewart said: "We understand the closure has caused frustration and inconvenience.
"However, a full and thorough investigation into the circumstances of the crash is vital and the scene must remain closed in order for that investigation to take place."
Earlier, officers warned drivers that the collisions had caused "massive disruption" to traffic and asked them to avoid the area.
Several motorists contacted the BBC to say they had been stuck in tailbacks on the M1 for several hours on Friday evening.
It followed a day of disruption on the same stretch after a lorry crashed into the central reservation near Moira at about 11:45 BST on Friday.
The lorry was removed from the scene early on Friday afternoon.
'Significant impact'
The fatal crash on Friday evening was followed by a second collision about one mile away, also on the country-bound lanes. which led to severe delays for rush-hour traffic.
Shortly before 21:00 BST, a BBC journalist who was travelling along the M1 on a bus from Belfast said the vehicle had "not moved an inch" since 17:30 BST.
Darran Marshall said traffic was "bumper to bumper" with drivers and passengers walking and standing on the hard shoulder.
'Scary'
A woman who was also caught in the tailbacks told BBC Radio Ulster that lots of drivers "decided to turn their cars and go the wrong way down the hard shoulder".
"It is scary and like pandemonium," she said.
The PSNI tweeted a warning to motorists caught in the tailbacks that they "should not attempt to leave their vehicles, attempt u-turns or drive up hard shoulder, for their own safety".