De La Salle College: Minister shares parents' concerns over problems at school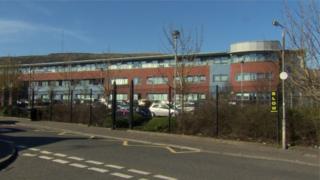 Education Minister John O'Dowd has said he recognises the concerns of parents of students from De La Salle College over ongoing problems at the school.
Parents and pupils have protested at the Belfast secondary school in recent weeks, claiming high staff absence was affecting GCSE and A-Level preparation.
Mr O'Dowd met a group of parents on Friday and said he shared their concern about the impact on pupils' education.
However, he said he is not standing down the management or governors.
It followed a call from a group of parents last month, who said the position of the school's management was "untenable" due to the continuing staff problems affecting classes.
The minister also refused a request from parents for an independent investigation to be carried out into the issues affecting the school.
This was the first time the Concerned Parents of De La Salle group has held talks with the outgoing Education Minister, John O'Dowd.
However, they have already held talks with the school management, the Council for Catholic Maintained Schools (CCMS), church representatives and the Commissioner for Children and Young People, Koulla Yiasouma.
Last month, the school's governors appointed an associate principal to work alongside the current principal and senior management.
Imelda Jordan is a former principal of St Colm's High School, Twinbrook, is now working with the current principal, Claire White.
In his statement after meeting the parents' group on Friday, Mr O'Dowd said: "We agreed that the appointment of the associate principal who is now in place is a positive move.
"I am confident that the addition of Imelda Jordan, a highly respected educationalist with an impressive track record is a game changer and will help to stabilise the learning environment."
The minister said he was confident that De La Salle's problems could be sorted out and added: "I believe the seven-point plan, agreed by CCMS, unions and the board of governors before Christmas, is the route to resolution."
He said he expected those signed up to the plan to "play their part fully" and added the implementation would be kept under close review.