Man denies endangering plane that was diverted to Belfast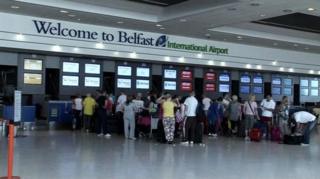 An American man accused of endangering an aircraft has said all the charges against him are a fabrication.
Jeremiah Mathius Thede, 42, was arrested on June 21 2015 after a Rome to Chicago flight was diverted to Belfast International Airport.
He denies a charge of endangering the safety of an aircraft.
A United Airlines Boeing 777 carrying 264 passengers was diverted to Belfast after Captain Janos Latura judged that the aircraft was in danger.
A member of the plane's cabin staff, Sheila Wire, told Antrim Crown Court she had to brief four male passengers in case their help was needed to restrain Mr Thede.
Ms Wire said she was concerned about his behaviour of because other passengers were becoming frightened.
She said up to 20 passengers spoke to her seeking reassurance that the situation was in hand.
Ms Wire described how Mr Thede had chased one of her crew colleagues with a notebook and pen, demanding her name.
A defence barrister suggested Ms Wire's memory of events was incorrect, something she robustly denied.