Loyalists protest over CS spray incident at Orange Order parade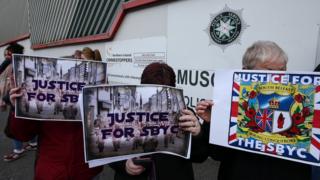 A group of loyalists has protested to the police about an incident on Easter Tuesday in which a CS spray was used.
The spray was used during a junior Orange Order return parade on the Ormeau Road in Belfast.
The PSNI said two officers received minor injuries during a "minor disturbance".
The parade's organiser, Noel Liggett, said the spray caused children to have swollen eyes and lips.
On Tuesday night, about fifty demonstrators went to Musgrave Police station in Belfast to speak to a senior PSNI officer about their concerns.
Afterwards, they said their demand for an officer who was involved to be suspended was refused.
A senior police officer said "a constructive discussion around a number of issues" was held with the delegation.