Teachers from De La Salle's largest union vote for strike action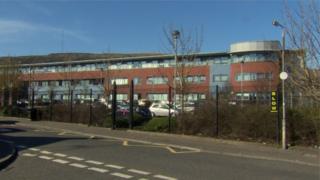 Teachers from the largest union at west Belfast's De La Salle College have voted for strike action.
In a ballot, 71% of the school's Irish National Teachers Organisation (INTO) members who returned their ballots voted for industrial action "up to and including strike action".
The result of the ballot was revealed in an e-mail to members on Tuesday.
It does not mean a strike is inevitable, but that one can now be called by the union.
Fifty-seven of the 70-strong teaching staff in the west Belfast school are INTO members.
Just over half its members returned their ballots, and 71% of those voted in favour of industrial action.
Tony Carlin, a senior official from the INTO, said the union would write to the school's board of governors informing them of the outcome.
Meetings
"Any industrial action arising from the outcome of the ballot will be considered only after meetings are held with school representatives and members in the college," he said.
The Chief Executive Committee of the INTO will decide whether to initiate strike action or another form of industrial action.
Members of the NASUWT and ATL unions at the school have not been asked to vote on industrial action.
There have been ongoing problems at the Andersonstown post-primary over the past few months.
Sick leave
Around a third of the teaching staff were off sick for a period before Easter.
The Council for Catholic Maintained Schools (CCMS) subsequently appointed an associate principal to work alongside the principal and senior management.
On Monday, crowds gathered for a rally at the school.
The Concerned Parents of De La Salle group, which represents some parents, called for an independent investigation into recent events at the school, which has around 1,100 pupils.