Used medical equipment incorrectly sent for recycling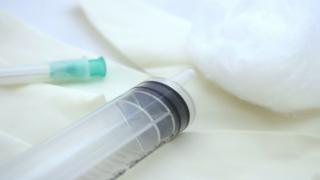 Syringes, nappies and used medical equipment were among waste incorrectly sent for recycling from two of Northern Ireland's health trusts.
The NI Environment Agency (NIEA) carried out an inspection at a waste processing facility, amid concerns.
The Belfast Trust accepted some waste had been "inappropriately disposed of" and was working to sort it out.
The Northern Trust said staff or the public had "accidentally placed the wrong items into recycling bins".
It said the agency had issued it with "an advisory letter".
Belfast Trust staff were told audits had shown a "large amount of waste" had been incorrectly segregated.
This had led to a "major contamination of waste streams" and it had also left the trust "in breach of waste legislation".
The NIEA wrote to the Belfast and the Northern trusts after the site visit to highlight the miscoding and mis-description of material, which is an offence under waste laws.
'Strained relationship'
Documents released under a Freedom of Information request detailed some of the things that turned up in the trusts' recycling material.
They included syringes both empty and containing liquids, nappies, faeces, medical tubing - both used and unused - bales of crutches and food.
The problems began in February 2015 when a recycling company rejected Northern Trust waste due to the high food content.
The waste collection company, SITA NI, then started auditing the waste it was collecting.
The relationship between some of the trusts and SITA NI, was sometimes strained.
The Northern Trust said it was concerned that the company was collecting segregated waste streams together.
In a statement, the company said it had investigated the claim and said there was "no truth whatsoever" in the suggestion it was responsible for contaminating properly segregated waste.
At one meeting it was suggested that if a range of problems were not ironed out, the contract might be terminated.
Extra training
Concern about the breaches of waste laws reached the Department of Health.
It ran extra training for the trusts' waste managers to ensure compliance with the law and to make sure the problem was being addressed.
The NIEA confirmed it had issued advisory letters after sanitary waste, food and syringes were found in the recycling.
"While there is no current further investigation into this incident, NIEA will ensure, through future inspections, that producers of waste and waste handling companies are in compliance with regulations concerning waste treatment and movements," the NIEA said.
The Belfast Trust said after the changes the contractor had continued to monitor the waste and had reported no further problems.