HIA inquiry: Man claims he was beaten and shaken at Lissue Hospital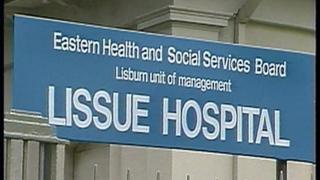 A man has claimed he was beaten and shaken at Lissue Children's Hospital in the 1950s.
He was giving evidence to the Historical Institutional Abuse (HIA) inquiry sitting in Banbridge on Tuesday.
The man said he was two years old when the beatings happened in the hospital for children in Lisburn, County Antrim.
He said he remembered "always feeling cold and afraid" and suffered "slappings and beating" there.
A nurse used a soup spoon to hit him on the forehead and chin in an effort to to get him to eat food, he said. He had suffered from an eating disorder all his life as a result, he told the inquiry.
"Every time she came near me, she hit me," he said.
He also described how a nurse shook him and threw him on a mattress.
The inquiry is examining claims of physical and sexual abuse at the hospital.
Allegations of abuse have been made against some staff members and some other child residents.
To date, no-one who worked at Lissue, has been prosecuted.
The HIA inquiry is investigating abuse in religious and state-run institutions dating from 1922 to 1995.
HIA chairman, the retired senior High Court judge Sir Anthony Hart, is due to submit his report to the Northern Ireland Executive by 17 January 2017.