Cancer treatment: NI failure to meet target times for patients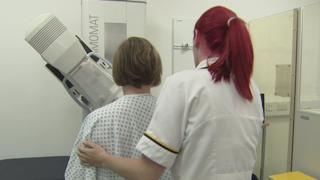 Northern Ireland has failed to meet its target times for the treatment of patients urgently referred for suspected cancer.
The target is for 95% of patients to be seen within 62 days.
But Department of Health figures for the final quarter of 2015 show 72% of patients started treatment within that period of time.
Of the 370 cancer patients who were given an urgent referral in December, 267 started their treatment on time.
All five of Northern Ireland's health trusts missed the target for the quarter.
A spokesperson for the department said it was "disappointing" the target had not been met.
But the figure was an improvement on the 64% of patients who began treatment in October 2015.
Prepare
Performance in dealing with potential breast cancer cases fell dramatically in December last year, with 49% of patients referred seen within the 14-day target.
The Department of Health's target is for all urgent breast cancer referrals to be seen within two weeks.
In October 2015, 84% of patients had been seen within two-weeks.
In December 2014, the figure was 96%, compared to 79% in December 2013 and 99% in December 2012.
Repercussions
A Department of Health spokesperson said a "significant increase" in referrals "impacted on performance".
"Where possible, trusts put additional clinics in place to help cope with the additional demand," the spokesperson said.
"However, the repercussions of such an increase take time to correct themselves."
The department expects to see an improvement in January's figures.
Last month, research by the Northern Ireland Cancer Registry found a dramatic rise in the number of women being diagnosed with breast cancer, and said the health system needed to prepare itself with the trend set to continue.
The Belfast Health Trust last month secured funding for another consultant breast surgeon.
The Northern Ireland Health and Social Care Board called the results "regrettable".
"This is largely due to a significant increase in urgent referrals for suspected breast cancer across Northern Ireland over recent months, in particular following Breast Cancer Awareness month in October," a spokesperson said.