Portrush, County Antrim: Man taken to hospital after cliff path fall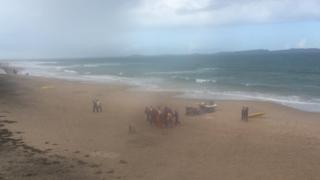 A man has been taken to hospital after falling 12ft onto rocks from a cliff path on Whiterocks beach in Portrush, County Antrim.
The alarm was raised after a walking companion saw the man fall just before 13:00 BST.
A senior RNLI lifeguard administered "casualty care to the conscious man" along with a paramedic.
The man was then put on a stretcher and moved by a group around the rocks to a waiting ambulance.
The RNLI (Royal National Lifeboat Institution) said it had called on the assistance of Coleraine coastguard due to "an incoming tide and a difficult location".