Lurgan: Thousands attend Apprentice Boys of Derry march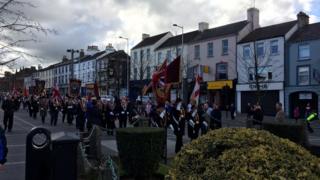 Thousands of people have attended a march organised by the Apprentice Boys of Derry through the centre of Lurgan, County Armagh.
It is the first time in about 20 years that the loyalist organisation has held such a large parade in the town.
The Parades Commission judged it to be "sensitive" and placed conditions on the march.
The organisers said they expected about 3,600 people, including 61 bands, to participate in the parade.
The Apprentice Boys of Derry is an organisation set up to commemorate the Siege of Derry in August 1689.
It is named in memory of 13 young apprentices - supporters of the Protestant King William III - who closed the gates of the walled city to stop the advancing army of the Catholic King James II.