Easter Rising 1916: Parade being held in west Belfast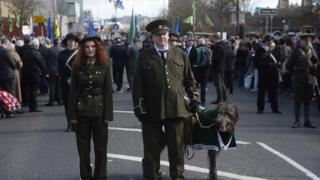 Thousands of people have lined the streets of west Belfast and gathered at Milltown Cemetery for a parade marking the centenary of the Easter Rising.
The parade began at Divis Tower at noon and made its way to the republican plot at the cemetery.
Those marching wore period dress, and the parade included horse-drawn carriages, uniforms and bands.
Sinn Féin leader Gerry Adams addressed the crowd at Milltown and called for an end to division and sectarianism.
The Easter Rising was a rebellion held in April 1916 to overthrow British rule in Ireland.
It was unsuccessful but is seen as a significant stepping stone to the eventual creation of the Republic of Ireland and the partition of Ireland.
Over 450 people were killed and 2,500 injured during six days of fighting.
Hundreds of thousands of people watched the main centenary parade in Dublin.
Before the military parade, there were wreath-laying ceremonies at Kilmainham Gaol and Glasnevin Cemetery.
In Kilmainham, the Irish president laid a wreath at the spot where 14 of the Rising's leaders were executed.
Two other rebel leaders were executed elsewhere - Thomas Kent was shot dead by firing squad in Cork and Roger Casement was hanged at Pentonville Gaol in London.
---
Speaking in Belfast, Mr Adams said the peace process and the Good Friday Agreement marked a historic shift in politics in Ireland.
"But there is much yet to be done. Hurts must be healed, divisions ended and the scourge of sectarianism must be tackled," he added.
"There is more to be done right across Ireland. While there have been improvements since it was first established the southern state is not the Republic proclaimed in 1916.
"Current efforts by the Dublin establishment to pretend that it is are an insult to the men and women of 1916."
Several other towns and cities in Northern Ireland have also staged commemorations to mark the centenary.
In Londonderry, a number of smaller events were held before thousands of people a main parade to the City Cemetery on Sunday afternoon.
In County Down, a parade was organised in Downpatrick and a there was an re-enactment of the reading of the proclamation of independence in Rostrevor.
In County Tyrone parades took place at Clonoe and Coalisland.
About 50 in paramilitary style uniforms led a parade associated with dissident republicans. At one point the parade passed the town's former police station.
It follows a similar parade in Lurgan, County Armagh, on Saturday.