Londonderry crash: Man charged with attempted murder of police officers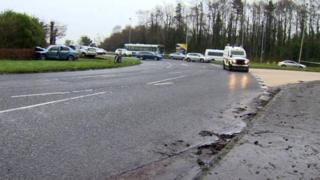 A 24-year-old man has been charged with 31 offences, including two counts of attempted murder of police officers.
The charges are in connection with a two-vehicle crash on the Caw roundabout in Londonderry on Friday, 5 February.
Police said two police officers were injured in their attempts to get out of the way of a stolen car involved in the crash.
Another officer was injured when making an arrest.
The man who has been charged is due to appear before the Magistrates' Court in Derry on Saturday.