Tony Blair says there is no widespread support for terrorism in Northern Ireland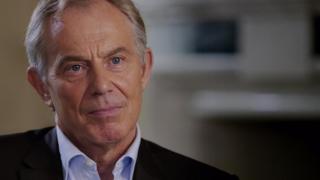 The former Prime Minister Tony Blair has said there is no longer any widespread support for terrorism in Northern Ireland.
Mr Blair was a key figure in the signing of the Good Friday Agreement in 1998.
He was speaking on BBC Radio Four's Today programme.
It was an interview to mark the 100th anniversary of the Easter Rising.
"You have got to be apprehensive and you have got to be vigilant for sure, but the big difference is that when the IRA were operating and some of the loyalist groups were operating when we first came into office in 1997 and for the decades before that, they were operating often with a significant support within local communities," he said.
"I don't think that support for this terrorism is there in the local communities today, but there will be some on the fringes that want to engage in violence and therefore you cannot drop your guard at all.
"But I don't think there is the same resonance for this type of violence that there was decades ago."