The Gobbins: New £7.5m coastal path closed over Easter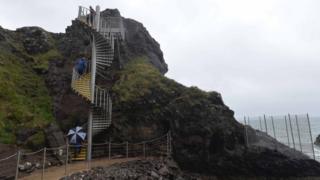 A coastal tourist attraction, which reopened to the public in August last year after a £7.5m revamp is to remain closed over Easter.
The Gobbins is a dramatic cliff face walk in Islandmagee, County Antrim.
The pathway had been damaged by storms and record rainfall in January, according to Mid and East Antrim Borough Council.
Its bridge structures have not been damaged and the council is expected to announce a date for its reopening soon.
Mid and East Antrim Borough council mayor, Billy Ashe, said: "Due to storm Abigail and storm Frank, some 3,000 tons of earth moved from the approach path.
"The actual Gobbins path from Wise's Eye is in perfect condition as we knew it would be, but it was the approach to the path that created the difficulty for us."
The Gobbins visitor centre and exhibition remains open to the public while the repairs are being carried out.
The original Edwardian structure first opened in 1902 but fell into disrepair and closed to the public in the 1950s.
In August last year, part of the path was opened after a major refurbishment.
The path is carved into black basalt cliffs and is connected by a network of walkways and bridges, including a new tubular bridge which is an almost identical replica of the original Edwardian structure.