Ambulance service review makes nine recommendations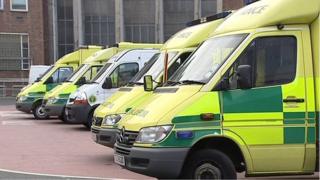 An independent review into the NI ambulance service has made nine recommendations to improve it.
The Regulation and Quality Improvement Authority (RQIA) said the service had taken forward the majority of its advised changes from its 2011 report.
But it said more action was needed in a number of areas, including staff training and communication.
Each year, the ambulance service deals with almost 200,000 calls.
Dr David Stewart, RQIA's medical director said it welcomed, " the ambulance service's plans for a clinical support desk to support new models of care that would allow staff to 'treat and leave' or treat and refer' patients who may not require to be brought to hospital emergency departments".
Support desk
The support desk concept was explained by ambulance service medical director David McManus.
"More and more people are contacting the ambulance service when an emergency ambulance response may not be the most appropriate response to their needs," he said.
Rather than take the patient to an "already very busy emergency department", Mr McManus said the support desk could "signpost or direct the patient to, for example, their GP, community nursing, or other response in the community".