Plans to be approved for huge County Antrim solar farm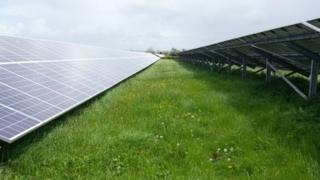 The environment minister has announced his intention to approve a huge solar farm in County Antrim.
It is currently one of the biggest planning applications in Northern Ireland.
Almost 180,000 solar panels will be fitted on a 79 hectare site on the Dublin Road, near Antrim town.
Generating enough electricity for almost 10,000 homes, it will be Northern Ireland's biggest solar farm development.
However, the energy company behind said it was still not certain that it would go ahead. It needs to be built, generating and connected to the grid before March 2017 when government subsidies for renewables run out.
The connection of renewable facilities to the grid has proven to be a problem due to network issues.
Environment Minister Mark H Durkan said he understood that, given the scale of the project, the public might have concerns about the visual impact.
But he added that he believed the site was " sufficiently enclosed" to minimise the impact.
The 46 megawatt project was scaled back because the site contained several "locally important scheduled monuments", Mr Durkan said.
The minister believes that if the development is "carried out sensitively", the impact will be minimal.
The applicant is Rad Energy Three Ltd.
The development was deemed to be regionally significant. It was dealt with by departmental planners.
The department said no representations were received in relation to the project.