Buncrana tragedy: Man who saved baby 'seconds from saving' second child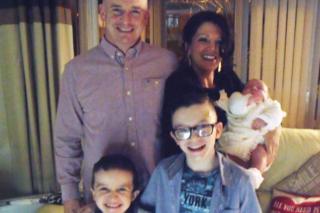 A man who rescued a baby from a drowning tragedy in County Donegal said he was seconds from saving another child.
Five members of one family died after their car went off Buncrana Pier on Sunday night.
The victims were Ruth Daniels, 57, her daughter Jodie Lee Daniels, 14, Sean McGrotty, 49, and his sons Mark, 12, and Evan, eight, all from Londonderry.
Books of condolence have opened in the city.
The bodies of the five victims have been brought back to Derry.
'No more tears left'
Davitt Walsh dived into the lough and swam to the family in their car, bringing four-month old Rionaghac-Ann back to safety.
He said he also grabbed the arm of one of the boys.
"I was pulling it and I had the baby in the other hand," he told the BBC.
"The water rushed in and the next thing he [the father] just looked at me and said 'Save the baby' and he went back into his family and the car just went straight down.
"I still had the young fella's hand and I just let go of him. His foot must have got caught on something because I nearly had him out," said Mr Walsh.
"The poor man had a decision because he was halfway out of the car and could have saved himself."
Mr Walsh also told BBC Radio Foyle that he had been reunited with baby Rionaghac-Ann at Letterkenny General Hospital.
"I've cried all day, I've no more tears left to be honest," he said.
"The doctors and nurses took us up to see the baby last night and that was the first time I felt good. We saw Rionaghac and it really lifted me and I felt much much better. "
The condolence books opened on Monday night at St Joseph's Church in Galliagh and Holy Family Church in Ballymagroarty.
Some of Evan McGrotty's classmates were among those who attended mass on Tuesday morning at Holy Family.
Parish Priest Father Noel Brown led the prayers for the family. He said it is an unimaginable loss.
"Some of the children this morning were actually crying when they were trying to think about what actually happened.
"I could see three or four of them, the tears coming into their eyes," he said.
"I suppose they don't fully understand how that could happen one of their classmates or one of their pupils from the school could be just taken away like that."
The funerals of the victims will take place in the same church in Derry on Thursday.
In the Irish parliament (Dáil) on Tuesday, the acting prime minister (taoiseach) Enda Kenny led a minute's silence for the family.
Mr Kenny said the tragic loss would leave a devastating impact on the extended family.
"In these circumstances, however, this is a particular and deepest grief, that the tranquillity and beauty of a sunny spring Sunday was shattered by this tragedy."
On Monday, Jim, a brother of Sean McGrotty, said the deaths had "devastated the whole family".
"We are now totally in shock and dismay," he said.
"I don't know how we're going to come back from this."
He said that Davitt Walsh was "a hero in this family's eyes".