Adrian Ismay death: Christopher Alphonsos Robinson charged with murder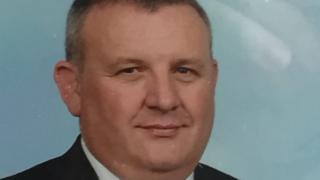 A 45-year-old man has appeared in court charged with the murder of prison officer Adrian Ismay.
Christopher Alphonsos Robinson, of Aspen Park in Dunmurry, had previously been charged with attempting to murder the father-of-three.
The charge was changed after Mr Ismay died on Tuesday from injuries he sustained in a dissident bomb attack in east Belfast a fortnight ago.
Mr Robinson refused to stand as the new charge was put to him.
Mr Ismay was seriously injured when a bomb exploded under his van at Hillsborough Drive, off the Woodstock Road on 4 March.
The father of three died 11 days later.
Police said that a post-mortem examination showed he died as a "direct result of the injuries" of the bomb.
A detective sergeant told Belfast Magistrates Court on Friday that the preliminary port mortem examination established the cause of death as deep vein thrombosis following the injuries to the prison officer's legs.
A defence solicitor told that a second post mortem examination would be carried out on the body of Mr Ismay soon and the results of it would be known in the coming days