Adrian Ismay death: NI Prison Service to investigate prisoners 'celebrations' claim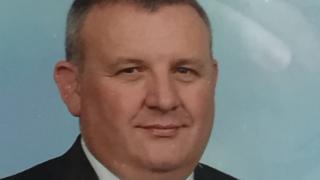 Claims that some prisoners "celebrated" the death of a prison officer who died days after a bomb will be investigated by the head of the Prison Service.
Adrian Ismay died on Tuesday, 11 days after he was seriously injured in a booby-trap bomb attack in east Belfast.
The cause of his death could be confirmed later on Wednesday.
Prison Service boss Sue McAllister said she will investigate claims some inmates celebrated his death by smoking cigars in the yard at Maghaberry jail.
'Daily threats'
On Tuesday, the BBC's Home Affairs Correspondent Vincent Kearney reported that well-placed prison sources had said some dissident republicans taunted prison officers following the news of Mr Ismay's death.
Speaking to the BBC's Good Morning Ulster programme, Mrs McAllister said: "I have not spoken to anybody who saw that for themselves yet.
"It wouldn't be appropriate for me to comment on what goes on in a high-security prison, but I will be visiting Maghaberry today and I will be speaking to the governor about that claim."
She added: "It's important to remember that my colleagues who work in that part of Maghaberry face challenge and intimidation and threats on a daily basis and it's to their enormous credit that they face that with quiet courage and professionalism."
Maghaberry Prison in County Antrim houses some of Northern Ireland's most dangerous men - both paramilitary inmates and those convicted of violent, non-terrorist offences.
Mrs McAllister, who was appointed head of the Northern Ireland Prison Service in 2012, said it would be "completely unacceptable" if the jail celebrations claims proved to be true, but she added it "would not be surprising" given the conduct of a small number of inmates.
'Devastating shock'
She said if the claims were validated they would be "in stark contrast to the quiet bravery and courage that's been shown by Adrian's family at this very difficult time".
Mrs McAllister said the officer's death had come as a "devastating shock" to the whole Prison Service, as he had appeared to be "recovering very well" from the injuries he sustained in the bombing on 4 March.
It is understood Mr Ismay suffered a heart attack at his home on Tuesday morning and died later in hospital.
A post-mortem examination is being carried out on Wednesday morning, in a bid to establish his cause of death.
The police said they are waiting on the results to decide if their investigation will be upgraded to a murder inquiry.