Poverty problem 'requires urgent action', says Joseph Rowntree Foundation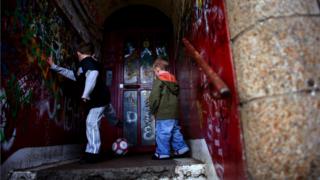 One in five people in Northern Ireland is living in poverty, a UK charity has said, with the region's struggling economy hindering efforts to address the problem.
The Joseph Rowntree Foundation (JRF) believes the issue requires urgent political action.
A report it has issued says Northern Ireland has lower pay and employment levels than the rest of the UK.
Employment rates in the region are 68%, while in Britain it is 73%.
The JRF has also said average pay for some workers is £20 a week lower than a decade ago, once inflation is taken into account.
Prospects
In 2015, median weekly pay in Northern Ireland was £382 compared with £427 in Britain.
The gap has remained at roughly the same level throughout the last decade.
The JRF also pointed out that young people from low income backgrounds "face worse prospects than their peers".
It has called on the next Northern Ireland Executive, which will be formed after May's assembly elections, to "put poverty reduction at the heart of its blueprint for government".
The charity's remit is to identify the cause of poverty and disadvantage and suggest solutions.
Its report on Northern Ireland was compiled with the New Policy Institute.