Belsonic: School asks pupils to skip Tiesto gig over exam clash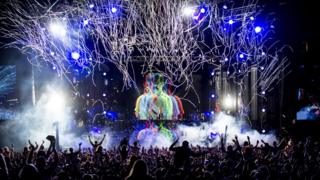 A north Belfast school has asked pupils sitting GCSE and A-level exams not to attend a major music festival in case it distracts them from revision.
Belsonic is usually held in the city in August but this year it has been moved to June, with concerts taking place throughout the month.
Several major dance and pop acts are set to perform but a concert by the DJ Tiesto is causing most concern.
St Patrick's College Bearnageeha, wants its boys to give that gig a miss.
Tiesto will play Belsonic on 9 June, the day of the GCSE maths exam and the night before pupils at the school sit six different exams across GCSE and A-level.
Bernadette Lyttle, the school's acting vice-principal, said she was concerned the gig would cause a distraction for the pupils.
"We've spent a lot of time over the last two years preparing the students," she said.
"We're just afraid that those students who are not as motivated as the others might give in to peer pressure, want to attend the concert and ultimately it will have an impact detrimental to their exam outcomes."
Ms Lyttle said the boys should "wait for the celebrations afterwards".
Opinion is split among the pupils who are debating whether to spend another night studying or reward themselves for their hard work.
"I definitely did want to go, but obviously the education comes first," 17-year-old Marc McGinley said.
"My future isn't going to hinge on a concert, it hinges on whatever I get [in the exams], so the tests come first."
Eoin Barclay, another 17-year-old at the school, said some people have chosen to go while others know they cannot.
"Then there are people like myself who are in-between, where I can go but I should maybe be in the books," he said.
"But, then again, you have to enjoy yourself."
The debate over Belsonic is continuing at the school as it does in others across Northern Ireland.
Pupils will have to decide whether their priorities are good exam results or a good night out.