Armagh: Pipe bomb blast causes damage to vehicles at car dealership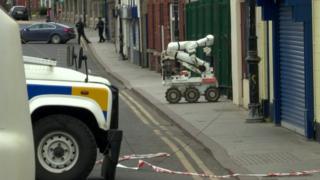 A pipe bomb blast has caused damage to four vehicles in Armagh, police have said.
The explosion happened at about 00:40 GMT on Sunday at a car dealership on the city's Cathedral Road.
Houses in the area were evacuated while army bomb experts searched the scene and examined the device.
Police said they believed the bomb was left at the dealership by a person carrying a backpack 10 minutes before it detonated.
The security alert has ended and residents have been allowed to return to their homes.
Roads that were closed during the alert have now reopened, apart from a small section of the Cathedral Road.