Woodburn Forest: Controversial oil well ruling to be looked at by officials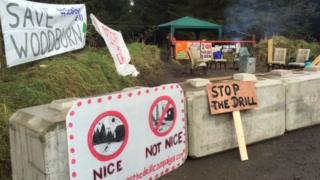 The rule under which a controversial County Antrim exploratory oil well got the go-ahead is to be looked at by officials.
The environment minister wants to hear the public's views about the use of so-called "permitted development" rights linked to oil and gas exploration.
They allow for exploratory work without a full planning application.
They were used to give permission for the well at Woodburn Forest near Carrickfergus.
Campaigners have opposed the well claiming chemicals used in the drilling process could impact the water supply to thousands of homes.
Both the oil company and Northern Ireland Water, which has leased it the drill site near a reservoir, have denied that there is any risk.
Opponents claim the well got permitted development rights by default after planners missed a 21-day deadline to respond to the application with its views.
The Department of Environment has said it decided the application qualified for permitted development status.
It said had it decided otherwise it could have removed the permitted development rights and demanded a full planning application "notwithstanding the 21-day deadline".
Now Mark H Durkan wants the public's views, citing "confusion" over the Carrickfergus well.
"The existing permitted development rights were designed to deal with onshore oil and gas exploration involving the conventional techniques that were used over two decades ago.
"The industry has progressed since then. The 'call for evidence' will provide an opportunity for all interested parties to express their views on key matters that they consider need to be addressed.
"I am keen to ensure situations such as the confusion in the planning process at Woodburn are avoided."
The public has until 13 May to respond.
If the oil company wants to develop the exploratory well into a commercial one it will need to submit a full planning application.