Ian Paisley fined for driving without insurance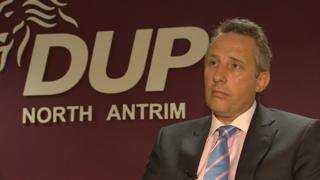 North Antrim MP Ian Paisley has been fined £250 by a court for driving without insurance.
The Democratic Unionist Party (DUP) representative was stopped by police while driving on Governor's Road, Lisburn, County Antrim, on 18 February last year.
He was also given six penalty points.
Mr Paisley did not have to appear in court on Thursday, but his solicitor said that it was an oversight.
He said at the time his client was oblivious to the fact he was not insured.
The court heard Mr Paisley's insurance had expired weeks earlier and he had expected it to automatically renew.
When he realised it had not been renewed, he rectified it immediately.
The lawyer added Mr Paisley should be given "maximum credit" for his early plea and previous good character.
'Family circumstances'
The MP was also ordered to pay a £15 offender levy.
In a statement afterwards, a spokesman for Mr Paisley said: "Ian has been driving since he was 17 and has always had car insurance until a completely accidental oversight on his part at the end of 2014 and the beginning of 2015.
"He was changing cars and hadn't realised his insurance had expired.
"Some may appreciate that his mind was elsewhere at the time given family circumstances. Ian never disputed this was a mistake on his part and accepted without question the points on his licence."