FASA: Substance abuse charity 'could not meet cost of growing demand' for services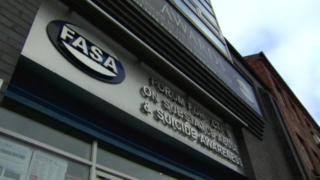 The chair of a charity facing closure has said it had money problems for some time because it could not meet the cost of growing demand for its services.
FASA (Forum for Action on Substance Abuse) helps people with drug and alcohol addictions, mental ill health, many at risk of self harm and suicide.
It suspended all services on Wednesday, saying it was facing insolvency.
Its chair Pastor Stephen Reynolds said they were trying to find alternative support for vulnerable service users.
"We work with over 2,000 clients every week and some of those clients are the most vulnerable within our society - some of them are in danger of losing their life through suicide - and we realise that this is a difficult time," he told BBC Radio Ulster.
'Resignations'
Pastor Reynolds became chair of FASA's board almost four months ago and said that he was made aware of the risk of financial insolvency in January.
"Since I took over in November 2015, we've heard a lot of ongoing problems for the organisation growing to meet the service demand and not meeting full cost recovery in relation to those services, and therefore that ate into our unrestricted funding which has led us into the position that we are in now," he said.
He said staff had tried, unsuccessfully, to work through the problems over the past eight weeks and there had been resignations at the charity during that process.
FASA is now being investigated by the Charity Commission for Northern Ireland, but Pastor Reynolds said the charity had approached the watchdog weeks ago to inform it of the situation.
The commission said on Wednesday that FASA was "co-operating" with its investigation.
FASA employs 62 people but its work is supported by a further 70 volunteers.
The charity is based on the Shankill Road in Belfast, but also provides services to people in Ballymena, County Antrim and in Bangor and Newtownards in County Down.
Pastor Reynolds said: "The news yesterday will create much anxiety in relation to those clients and leave them very vulnerable, so we want to make sure that we do all that we can to protect those service users.
"So we will continue to work in the background to see if we can bring FASA forward in relation to this, and if that is not possible then we will work with our key agency partners to make sure that those clients are supported in various other ways."