Crumlin: Pipe bomb found during overnight security alert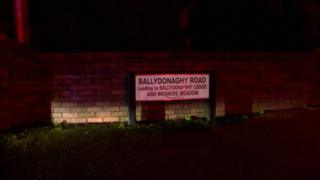 A pipe bomb has been found overnight in Crumlin, County Antrim
More than 40 homes in Ballydonaghy Meadows were evacuated in a security alert that began about 21:30 GMT.
Sinn Féin councillor Anne-Marie Logue said it caused serious disruption for young families and elderly people who were out of their houses for hours.
The operation ended during the early hours of Thursday morning, as residents were allowed back to their homes and roads were reopened.
'Absolutely unacceptable'
The device was found by a local man who was walking his dog in the area.
Six families were given shelter in a nearby community centre while Army bomb disposal officers dealt with the pipe bomb.
Ms Logue said: "Young families were taken out of their homes, some young children were actually asleep at the time - young children who obviously needed to go to school in the morning.
"Unfortunately this has caused mass disruption in the local community, so those people that are actually responsible for placing this device are just totally and absolutely unacceptable."
Earlier on Wednesday, another pipe was discovered at Upper Dunmurry Lane on the outskirts of Belfast.
Army bomb officers also removed it for further examination.