Hazelwood Integrated College takes the lead on LGBT education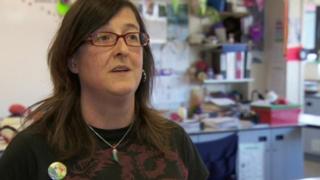 To her year 12 pupils at Hazelwood Integrated College in north Belfast, Hilary Donnan is their head of science.
They also know that she happens to be a lesbian, but they care much more about their forthcoming GCSEs than their teacher's sexuality.
Hilary says it is important for her to be open with them.
"It's very important to stand up and say I am gay because then those kids who are growing up struggling in school can look at me and know it can be okay, it can be fine," she said.
Among colourful displays about the solar system and the sea in Hilary's room are smaller posters advising pupils about LGBT issues.
That is echoed elsewhere in the corridors beyond Hilary's classroom.
The school has a 'Gay, Straight, Whatever' group where staff and pupils meet, have a cup of tea, talk, and organise events.
The group also takes part in Belfast's Pride march each year and helps to raise money for a range of charities.
Head of Maths Kieran Coyle is gay, he has been teaching for ten years and is also a member of the group.
He says Hazelwood is particularly inclusive, but says that teachers in other schools may not get the same support.
"There are very few schools actively engaging with the issue as we are," he said.
"The biggest impact that has for me is fear of moving on somewhere else.
"My next step up the ladder should be to look at vice-principal jobs, and that puts me off."
Hazelwood also has a small number of transgender pupils.
To accommodate them, the school has set aside a designated toilet and introduced a gender-neutral uniform policy.
The Principal, Kathleen O'Hare, said that it is vital the school is fully inclusive.
"Firstly I had to start looking at toilets, and now we're looking at uniform," she said.
"The best thing we can do in being a Christian is to actually support people as best we can."
Now, the Ulster Teachers' Union (UTU) is calling on more schools to follow Hazelwood's example.
Motions at their annual conference call for more gender-neutral toilets in schools, and for the Education Authority (EA) to set up committees to help schools address LGBT issues.
"Recently one of our members in an inspection was asked by the inspectorate what provision they had made for transgender pupils," said UTU secretary Avril Hall-Callaghan.
"Those are questions that are being asked and we do need answers to them.
"All of us had better sit down and work out what those answers are."