McGuiness: Brexit could be an issue for US investors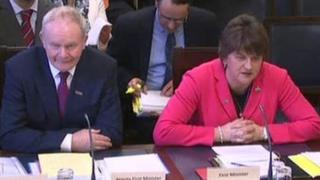 The deputy first minister has said the possibility of a UK exit from the EU could be an issue for potential American investors.
Martin McGuiness made the comments while addressing a Stormont committee.
Mr McGuinness and First Minister Arlene Foster are due to travel to the US in coming days.
Mrs Foster told the committee that her differences with Mr McGuiness over Europe would not make the trip difficult.
It is the first time the first and deputy first ministers have addressed the Office of the First and Deputy First Minister committee together.
'Foolish'
MLAS questioned the first and deputy first ministers about a serious of issues including economic matters , the EU referendum, the institutional abuse inquiry and community relations.
During their trip to America, Mr McGuinness and Mrs Foster are expected to have discussions with politicians and business leaders.
Asked about how Americans would react to their contrasting views over Europe Mr McGuinnness said it would be "foolish not to recognise that it will probably will be an issue for the business community ".
The first minister told members of the OFMDFM committee that although her views on European membership contrast from the Deputy First Minster's, her trip to America would not be "difficult at all ".
She told MLAs "we are positively looking to the future".
She added that after the EU referendum in June "we will still have a job of work to do. We take that very seriously and that is the message we are taking out ".
Of the five main political parties in Northern Ireland, the DUP is the only party to have confirmed they will be seeking the UK to leave the EU in the forthcoming referendum.