NI Education: John O'Dowd says 'Executive to decide how 500 teachers are to be replaced'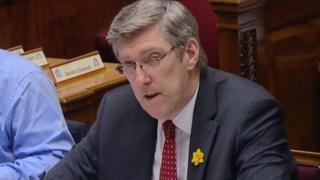 The education minister has said that the executive will decide how a teacher replacement scheme will proceed.
The 'Investing in the Teaching Workforce' scheme will replace 500 staff over the age of 55 with teachers who have graduated within the past three years.
John O'Dowd told Stormont's education committee that the three year limit could increase to six years.
He also said the scheme could become open to everyone.
Howeever, Mr O'Dowd warned the committee that increasing the number of people who could apply for the scheme would reduce the savings it would make.
'Cost to the public purse'
Responding to a question from the committee chair, DUP MLA Peter Weir, Mr O'Dowd said the scheme was a "highly contested policy" which had "created a lot of debate."
The minister said he had prepared a paper for the executive, setting out three options for the scheme.
"One is to continue with the original proposal of allowing teachers to retire at 55 and bring in recently qualified teachers," he said.
"I have given a proposal to the executive to move from three years up to five or six years, or I have said to the executive if you open this to everyone there are no savings, and there's actually a cost to the public purse."
Mr O'Dowd said he hoped that members of the executive would discuss the options at their next meeting on Thursday.
The minister also said the scheme could save £9m in 2016/17 financial year, but that those full savings were now unlikely to be realised.
He also confirmed that the education resource budget faced a cut of £72m in 2016/17, a reduction of 3.8% on the current financial year.