Student flats plan for Belfast's Dublin Road recommended for approval, despite residents' objections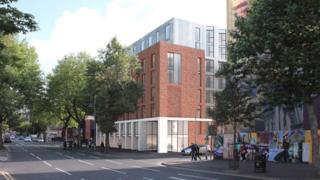 A planned Belfast student housing development that has attracted objections from nearby residents has been recommended for approval.
The eight-storey, 156 unit scheme on the Dublin Road is close to houses.
Planners have said it should go ahead, subject to the developer entering a legal agreement with Belfast City Council about the management of the scheme.
Councillors on the planning committee will make a decision next week.
Residents have claimed it will become a "Holyland in the sky", a reference to the city's largely student Holyland area that has seen serious anti-social behaviour in the past.
Refusal
Planners have also recommended approval for two other student schemes in the city - a 407-unit development on York Street and a 740-unit scheme on College Avenue.
The latter scheme, which is being developed on behalf of Queen's University, will be the single biggest student housing project in Belfast.
A fourth student project on Little Patrick Street has been recommended for refusal.
Planners said they had not been provided with enough information to show the scheme "can operate without harm to the amenity of neighbouring land uses or prospective residents".
A separate 11-storey apartment block on Little Patrick Street has also been recommended for refusal.
Planners cited seven reasons, saying the scheme "would not represent good urban design or place making".
Extension
Meanwhile, a hotel scheme at Belfast Harbour's City Quays development has been recommended for approval.
City Quays is primarily an office development on the west bank of the River Lagan, close to the city centre.
The application states that the nine-storey hotel would be "upper midscale" in terms of market position.
An extension to the Jurys Inn hotel on Fisherwick Place has also been recommended for approval.
It will front on to the Grosvenor Road and add 80 bedrooms.