NSPCC: A quarter of all sex offences reported in NI involve primary school children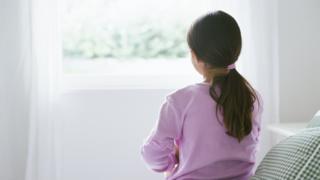 More than a quarter of all sex offences reported to police in Northern Ireland last year involved children under the age of 12.
Of the 2,692 victims of sex offences in Northern Ireland in the 2014/15 period, 733 (27%) were children aged 11 and under, the charity said.
Neil Anderson, of the NSPCC, said that statistic was "appalling".
The NSPCC obtained the figures from the PSNI.
"The continuing rise in reported sex offences against children is deeply worrying and shows what a rampant problem this is," he said.
Gender breakdown
According to police statistics for 2014/15, 1,516 people under the age of 18 were recorded as being the victim of sexual crime - 1,141 were girls; 374 were boys. In one case, gender was recorded as being unknown.
The NSPCC said this represented a 53% rise since 2011/12 and added that it could be due to more young people having the confidence to come forward and an increased awareness of sexual abuse.
But it added that the figure may not reflect the full number of children that have been abused, saying many are afraid to speak up.
Increase funding
Mr Anderson said: "Sexual abuse can shatter a child's mental health - the cruelty can leave them anxious, depressed, and even suicidal.
"Swift action must be taken to stamp out these horrendous crimes."
The NSPCC said it wants the Northern Ireland Executive to increase funding to support children who have been the victims of abuse.
The charity said it was speaking to children in schools to help them to understand abuse and explain how to find help if they need it.
Detective Chief Superintendent George Clarke, Head of the PSNI's Public Protection Branch, said: "Although the statistics show a rise, we see this as a sign that local communities have more confidence in the service we deliver.
He said that reports of historical abuse and changes in the way police record such crime may have had an impact on the figures.
"Child protection now falls under the remit of the PSNI's Public Protection Branch which was established in April of last year," he said.