Smoking ban introduced at NI hospitals and health sites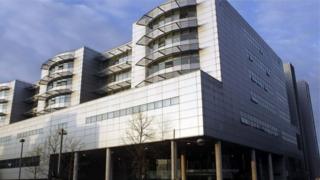 Smoking on the grounds of hospitals across Northern Ireland has been banned after legislation came into force on Wednesday.
The ban prohibits smoking on the grounds of any Health and Social Care (HSC) site and includes e-cigarettes.
Smoking is also not allowed in vehicles on the grounds.
The new rule coincides with No Smoking Day and was announced last year by then Health Minister Jim Wells.
Two years ago, the Western Trust banned smoking across its sites including Altnagelvin Hospital.
Mary Black, of the Public Health Agency, said "it makes perfect sense" that hospitals would ban smoking.
"The aim of going smoke free is to provide a healthier environment for everyone who uses health and social care premises, whether they are giving care or receiving it.
"We hope that patients, visitors and staff will use smoke free as a catalyst to encourage their own quit attempt."