Woodburn oil well: Protesters ordered to leave site or face court risk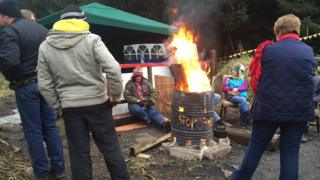 Protesters opposing an exploratory oil well in County Antrim have been ordered to allow access to the site or risk being taken to court.
The oil company behind the project posted notices on Tuesday giving the protesters until 15:00 GMT to leave.
Campaigners against the project have maintained a presence at the entrance to the proposed site for several weeks.
They claim chemicals used in drilling at Woodburn forest could pose a risk to drinking water for thousands of homes.
Both Northern Ireland Water, which owns the land and has leased the site, and InfraStrata, the oil company, have said the project does not threaten the water supply.
Obstruction
InfraStrata said it had a "valid and legal right" to occupy the site and the protest had obstructed it.
It said it was "incurring and will continue to incur substantial costs on a daily basis in pursuit of its lawful business" on the site, near Carrickfergus.
"Any delay will cause losses to InfraStrata plc which it will seek to recover," it added.
It said if there was any obstruction to work it would report criminal acts to police and seek damages through the civil courts.
Fiona Joyce of the Stop the Drill group said its members were seeking legal advice about their next move.
On Monday, Mid and East Antrim Borough Council approved a waste management plan for the project, a requirement before drilling can begin.