Cross-border crime task force: First operation expected to take place in March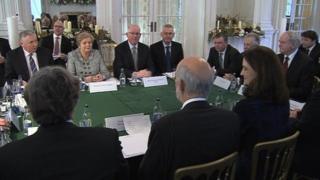 A new joint task force set up to help tackle cross-border organised and paramilitary crime is expected to mount its first operation before the end of this month.
Senior figures from the PSNI, the Garda, Her Majesty's Revenue and Customs Service, the Irish Revenue Commissioners and Immigration Service held their first meeting in Dublin last Friday.
Sources said they ratified a proposal for a joint operation in the border area within a matter of weeks.
The taskforce is targeting organised and paramilitary gangs involved in child sexual exploitation, financial and rural crime, human trafficking and drugs.
It was established as part of the Fresh Start deal agreed in November.
At the time, Northern Ireland's first minister and deputy first ministers welcomed what they referred to as an important milestone in the relentless pursuit of criminals who they described as "a scourge on our communities, north and south of the border".
However, four months later, it has still not been agreed who will pick up the bill for the contribution of law enforcement agencies in Northern Ireland.
The PSNI has said it will require additional funding for the extra workload.
But the BBC understands that the Northern Ireland Office and Department of Justice have both so far failed to agree to fund the taskforce.