Dunmurry security alert: Suspicious object found at primary school was hoax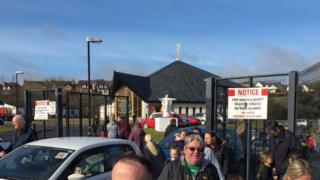 A security alert at a primary school in Dunmurry has been declared a hoax.
Pupils were moved from Christ the Redeemer Primary School at 09:00 GMT on Monday after police were contacted about a suspicious object outside the school fence.
A section of Lagmore Drive was closed while army bomb experts investigated.
The pupils were taken to a nearby church hall.
BBC News NI reporter David Maxwell said there were "chaotic scenes" as parents arrived to collect their children.