Carnfunnock Country Park: 'Dissident republican link' to explosives find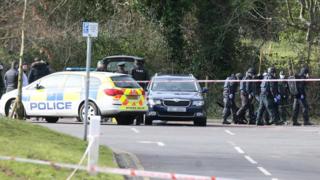 Police believe a "significant terrorist hide" uncovered at a County Antrim country park belonged to a dissident republican group, the BBC understands.
An explosives haul was found buried in wooded land at Carnfunnock in Ballygally, near Larne, on Sunday.
It included items used to make under-car booby-trap bombs, understood to be similar to that used in an attack on a prison officer in Belfast on Friday.
The components are due to be forensically examined this week.
A report by a member of the public on Saturday of a suspicious object led police to uncover the explosives and bomb components.
Targets
Police said the items were inside small plastic barrels, and included "partially constructed devices".
A dissident republican group referred to as the new IRA has claimed responsibility for Friday's attack in which a bomb exploded under a prison officer's van.
Police will not comment on the nature of the device, but in a statement the new IRA said it contained Semtex explosives and a commercial detonator.
The prison officer suffered serious injuries in the explosion and the dissident group said he was on a list of "potential targets".
Four people have been arrested over the attack.