West Belfast: Second bomb found during security alert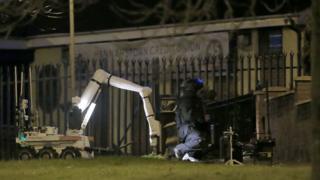 Police have said two devices found in separate security alerts in west Belfast are viable.
The first bomb was found during an alert at Ramoan Drive on Saturday morning.
A device found in the Glencolin Walk area of west Belfast later on Saturday has also been declared viable. There is another security alert in Ballygally in County Antrim.
Both alerts in west Belfast have now ended.
The alert in Glencolin Walk followed the discovery of a suspicious object.
The Glen Road was closed between the junctions of Shaw's Road and Suffolk Road.
Police are attending a security alert at a country park on the Coast Road, Ballygally, in County Antrim, following the discovery of a number of suspicious objects.
There are no more details on that incident at this stage.
On Friday, a bomb exploded under a prison officer's van in east Belfast.
The device partially detonated when he drove over a speed ramp at Hillsborough Drive in Belfast, at 07:10 GMT.